There's a lot to think about when you're pregnant. Trust me, I know. As a family and pregnancy photographer (and parent), it is my job to not only capture this unique time, but also to make it as stress-free and enjoyable as possible for my clients.
That's why I created this guide — not to give you any rules about what to wear, but to provide a helping hand and some inspiration before your pregnancy photoshoot. After all, if you have decided that photographing your pregnancy is right for you, it's only fair that you feel as comfortable and confident as possible!
Wear What Makes You Feel Good
Sometimes comfort is king, other times, putting on a fancy outfit makes you feel your best. The simplest but most important advice I can give you for your maternity photoshoot is wear what makes YOU feel good.
There are an abundance of gorgeous pregnancy photos floating around the internet for inspiration… but I guarantee you that you will get the photos you are happiest with if your chosen outfit makes you feel relaxed and confident. If you feel best in jeans and a t-shirt, wear just that! This is all part of loving your body through pregnancy and in maternity pictures. Use clothes to help empower you at this time.
You can always bring an outfit change (or several changes!), so you have some photos capturing the reality of your maternity wardrobe, be that yoga pants or dungarees, and some in your cutest maternity outfit.
Think About Time and Place
The location of your photoshoot often determines what you wear. If you are indoors at home a more casual look works well, but if you have scouted out a special location, you may want to dress up more — whether it's in a city or the countryside.
As a South Yorkshire based photographer, with the Peak District on my doorstep, I do a lot of photoshoots out in nature which can make for some truly magical pregnancy photos. It's important to bear in mind how seasonality will affect what you wear, not just in terms of temperature and weather practicality but colour too.
I had a winter baby and took some maternity photos of myself in a snowy Sheffield woodland. As I knew I would be surrounded by white snow, dark wood, and a grey sky, I intentionally chose a bold coloured outfit to stand out against this background. Contrast this with this woodland pregnancy photoshoot taken during the heights of summer. Molly's dress gives her an ethereal look, whilst also creating a clean, unfussy silhouette against the forest foliage and shadows.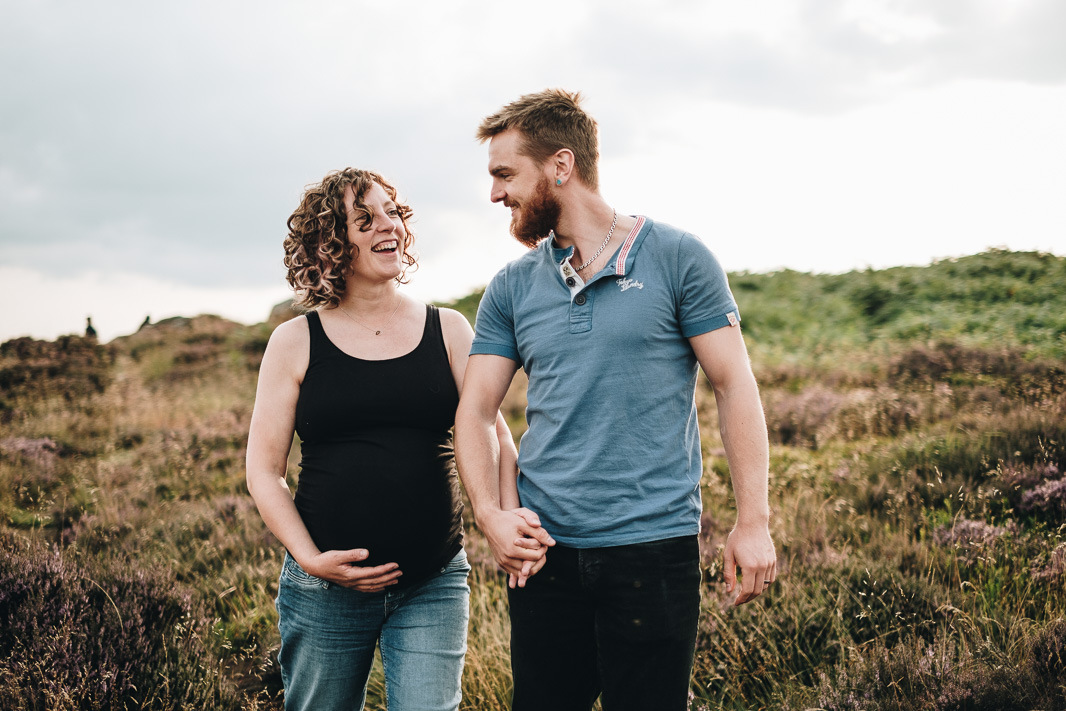 Outfit Coordination
If your partner, children, or other family members are part of your photoshoot, consider how your outfits will fit together. You should all be comfortable, but try to make sure you are all on the same page regarding whether you are going smart or casual.
If you are uncertain, lay your outfits out next to each other to see how they look together. They don't need to be perfectly coordinated (although they can be if you like), but you might want to check for clashing colours or prints.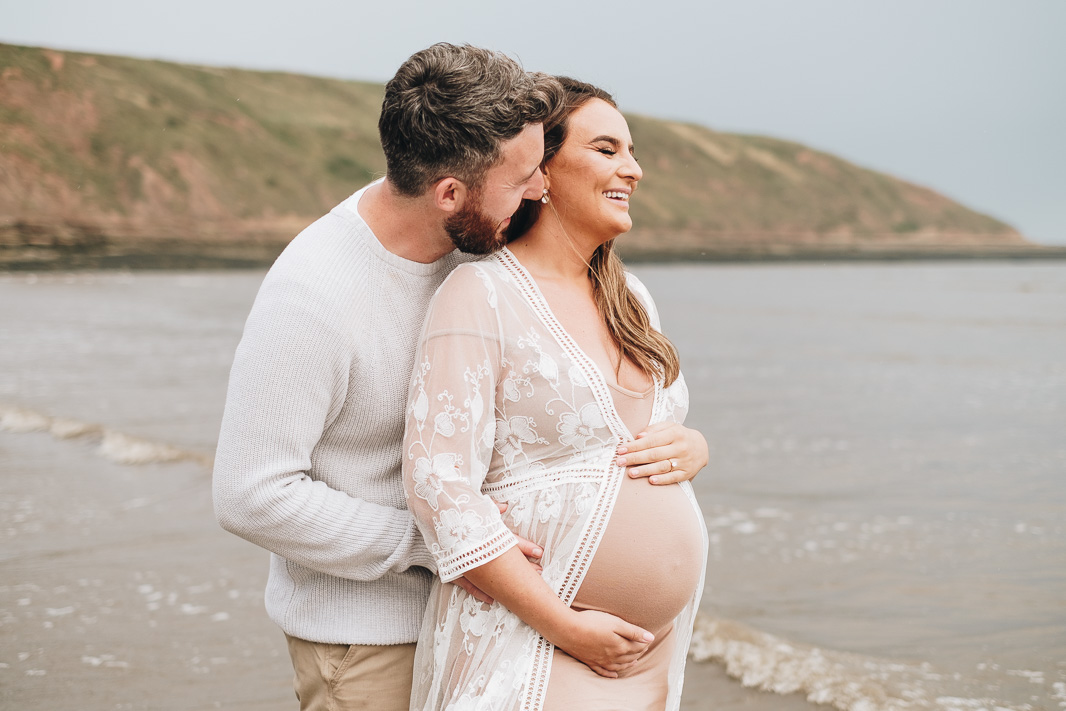 Look to the Future
If you are planning on more professional family photoshoots, you may want to think about how the outfit for your maternity photoshoot fits with your future shoots. This doesn't need to be complicated!
A good example is Julie, John and baby Isabelle, who I worked with to help them build up a professional family album. From Julie's pregnancy, to newborn Isabelle, to Isabelle at six months, their outfits compliment each other as they stuck to neutral shades with pops of deep green. Keeping things simple with a splash of your favourite colour is a great way to create a family photo series.
Also, consider how timely or timeless your aesthetic is. A simple dress in your favourite cut, or even a shirt and jeans, will always be a flattering classic. Alternatively, you could mark the year of your pregnancy with your favourite trend. You can always use your newest accessories with a more classic outfit and take your accessories off to have the best of both.
Borrow from the Client Wardrobe
Booking a maternity photoshoot with me means that you get access to my client wardrobe. I have a collection of dresses in various sizes and styles that clients are welcome to borrow for their photoshoot.
If you are looking for a pregnancy photographer in Sheffield or South Yorkshire, get in touch for a no-obligation chat!