Sheffield is a great place to raise a family (it's part of the reason why I moved here when my little one was on the way!). Since becoming a South Yorkshire resident, I have had the joy of photographing several local families — and families to be!
Family photoshoots are a lot of fun, but there can also be a lot of people to manage — and it can be difficult knowing how to work with younger children during a shoot. I have put this guide together for parents and guardians to help you prepare yourselves and your kids to make sure you get the most out of our time together — and hopefully, take away any worries or stress you may have.
If you're looking for a family, pregnancy or birth photographer in Sheffield, please get in touch. If you live further afield, then feel free to reach out and let's see what we can do!
"The photography was lovely – I liked her laid back approach and that all her photos look less like a photography session and more like magic screens into a day in the life. We're big on candid photos and that's the vibe Elle's photography gives off. Everything also feels so light – the actual lighting, the experience, Elle's energy – it's great!"
–– Heather
Go With The Flow
I hate to break this to you, but it's essential to get this out of the way first — your family photoshoot will not go as planned.
I adore working with kids because they wear their moods on their sleeves, and they are going to give it to you straight when it comes to their thoughts on their outfit/the location/how they feel about having their photo taken. Of course, this can go either way: we might be in for a wild afternoon of unexpected play and joy, or there may be some tears and resistance along the way.
I understand that it can be frustrating if you have set aside time for a professional photoshoot and you are met with challenging behaviour from your younger family members. However, managing your expectations beforehand so you can show up with a 'go with the flow' approach will result in the most enjoyable photoshoot for all the family (regardless of their age). This approach also often leads to the best photos.
The number one bit of advice I can give you when working with children is: kids respond to your energy.
Maintaining an upbeat, energetic, fun, and caring persona will help guide your kids' attitude to the photoshoot. Even if your kids become cranky or upset during the shoot, they will usually come around quicker if you keep your cool.
Do what you need to do in order for them to feel validated, seen, and comforted (this also might be in the form of a snack or favourite game) and then calmly guide them back round to the photoshoot.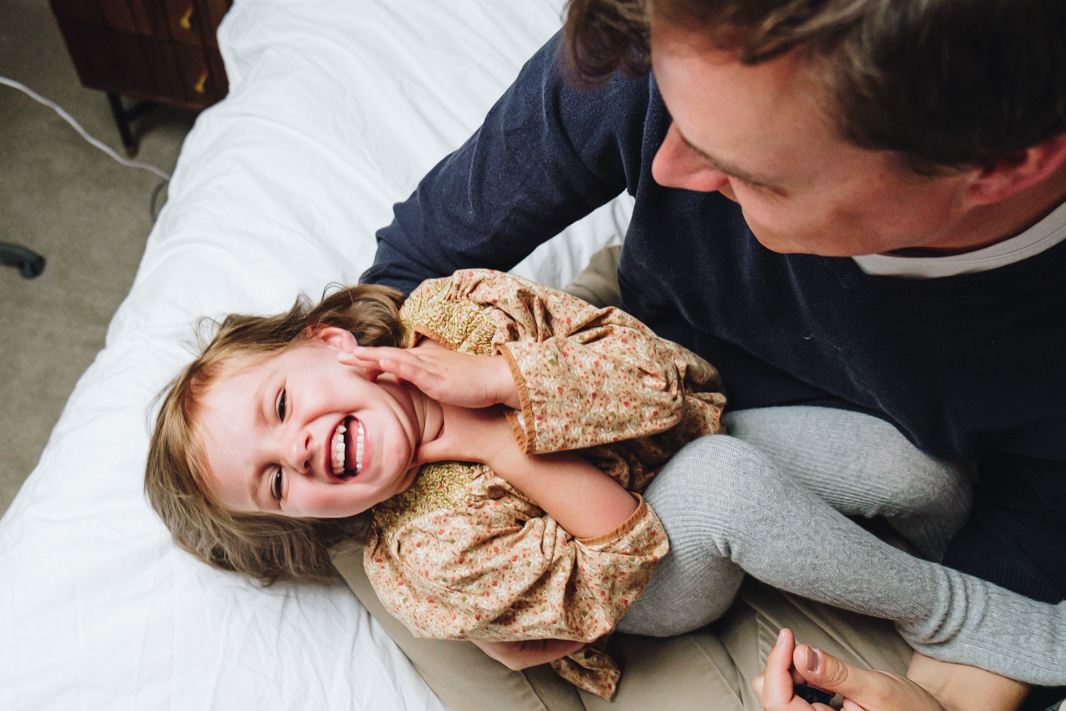 Don't Worry About the Perfect Shot
I find it endearing when clients try and take on the responsibility of setting up the perfect photo, but that's my job!
And to be completely honest with you, the perfect shot doesn't actually exist — at least not the perfect planned picture. When it happens — and I guarantee you there will be at least one, if not several, unexpected gems that come out of our session — it's usually the result of a serendipitous meeting of circumstances.
Instead of worrying about getting the best pictures, let yourself enjoy the moment.
Family and newborn photoshoots can be amazing bonding sessions, so let yourself be present with your loved ones — I'll take care of capturing all the magic.
There is no need to prepare a list of images you want beforehand, but if there is anything especially important to you, let me know.
Get Your Kids Excited
A little prep can go a long way — in the days leading up to the shoot, tell your kids about this super fun family friend who is going to be spending some time with you at home/in the park/in the Sheffield Peak District/wherever you choose as your location. (If you need some help finding a beautiful photo location in or around Sheffield, let me know — I have loads to recommend!).
If your kids are already looking forward to a fun experience (as opposed to them being told seriously about a photographer coming and how important it is to behave for them), then chances are they will be at ease and this will shine through in the photos.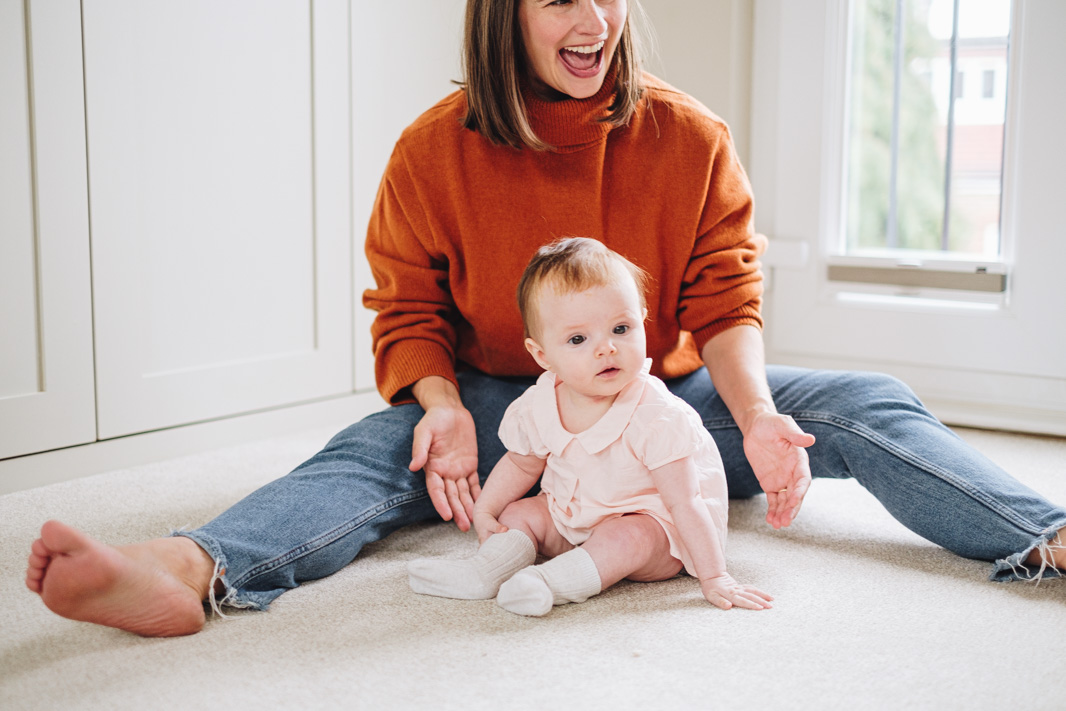 Warming Up
Before I even get my camera out, I will spend some time getting to know your kids.
This is key for your kids thinking I'm 'one of them' — and also that you weren't lying about this fun friend coming to visit! Every child is different, some will relax into the experience quickly and others might be a bit cautious, but don't worry, we will get there in the end — the less pressure there is on them to 'behave' or 'be good' the quicker they tend to come around.
As your kids start to open up to me, I'll get my camera out and begin documenting the fun stuff.
Have a look at these lovely photos of Ryan and Becky at home in their garden in Sheffield to get a taste of what our photo journey together might be like.
"We had the absolute best time during our photo session! When I saw your photography portfolio, I knew that I had to contact you because your style of photography and editing matches pretty closely to what we usually gravitate towards…On the day of the session, everything felt very natural which probably helped you capture us in our element. Thank you so much for making it such a wonderful experience!"
–– AAINA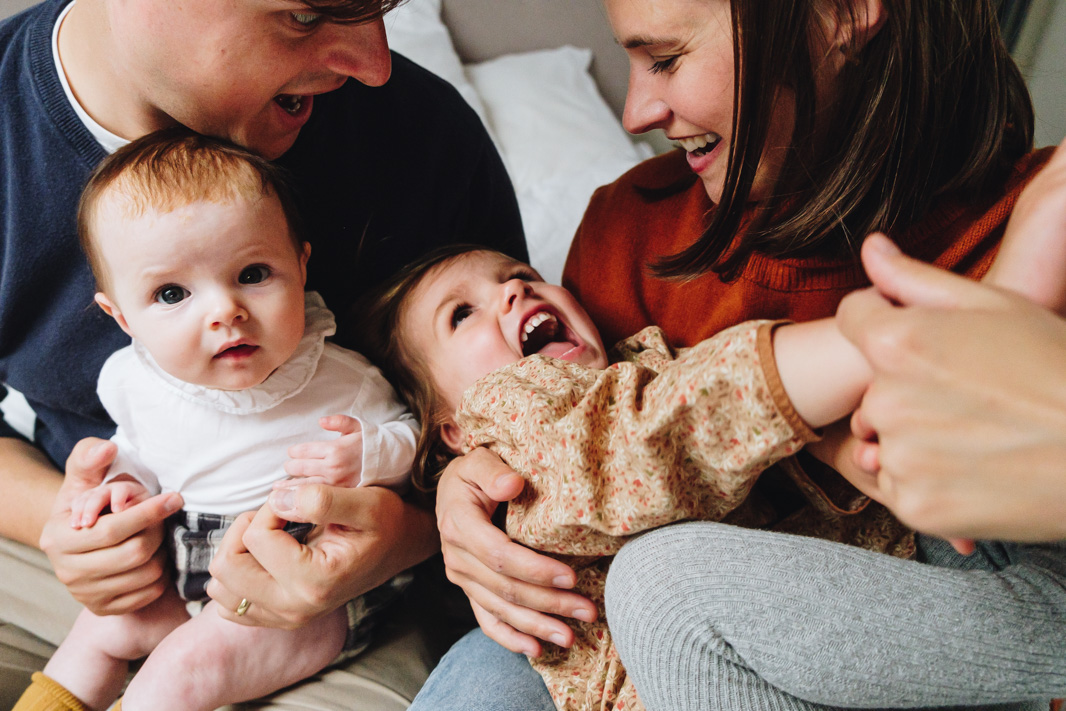 Not only do family photoshoots provide you with gorgeous photos celebrating your relationship to one another, but the entire experience can be a really lovely family memory. I know working with kids isn't always smooth sailing, but trust me when I say you are in experienced hands and applying the above tips can help iron out any potential hiccups.
If you are looking for more general advice from what to wear (this can easily be adapted from pregnancy photoshoots, and the outfit coordination section may be especially useful) to keeping your family photos backed up, check out my blog.
Feel free to reach out if you have any questions, otherwise go ahead and book in your family photoshoot!