Those first days and weeks of having a newborn baby at home are sheer magic — sleep deprived magic that happens in a blurry, emotional flash, but magic nonetheless. Whether you are navigating parenthood for the first time or welcoming the newest member to your existing family, you are getting to know and creating important bonds with this box-fresh tiny human in the outside world. Commemorating this time with some family photos can be a beautiful way to celebrate this landmark moment in yours, your baby's, and your family's lives.
I offer at-home newborn photoshoots purposefully developed to prioritise the needs and comfort of you and your little one. The photoshoot takes place in your home, where you and your bub are at your most relaxed and are around a generous three hours long to allow time for feeds, changing, and baby snuggles.
This blog aims to help you decide if a newborn photoshoot is right for you, answer some of the most common questions I receive, and give you some inspiration for your newborn photoshoot!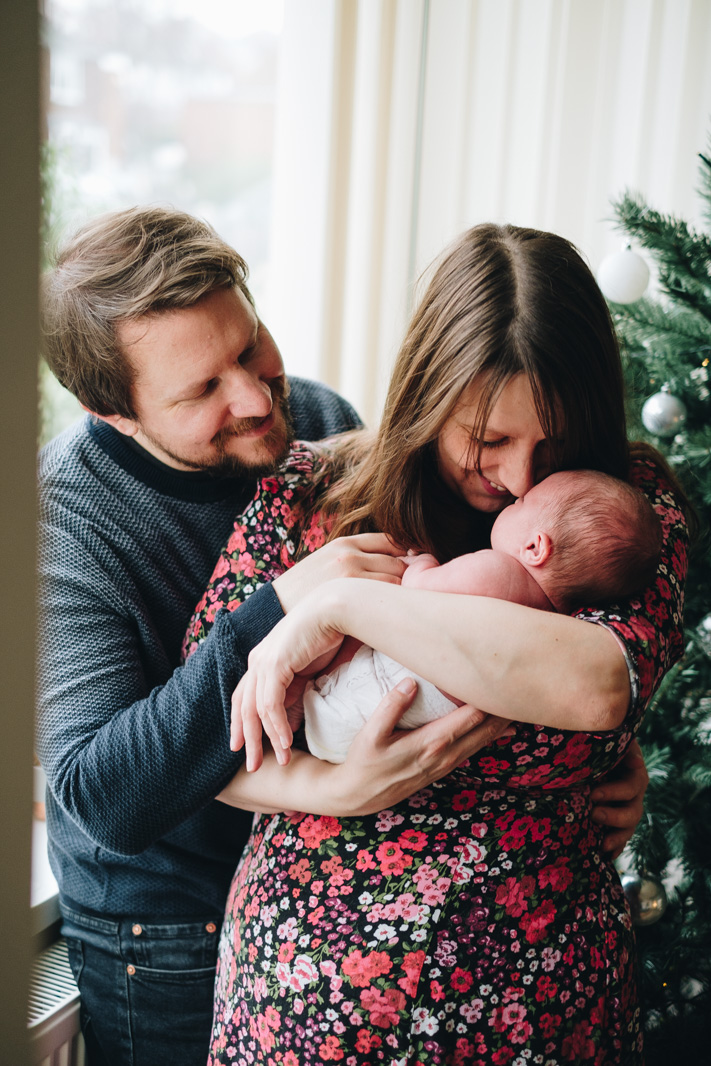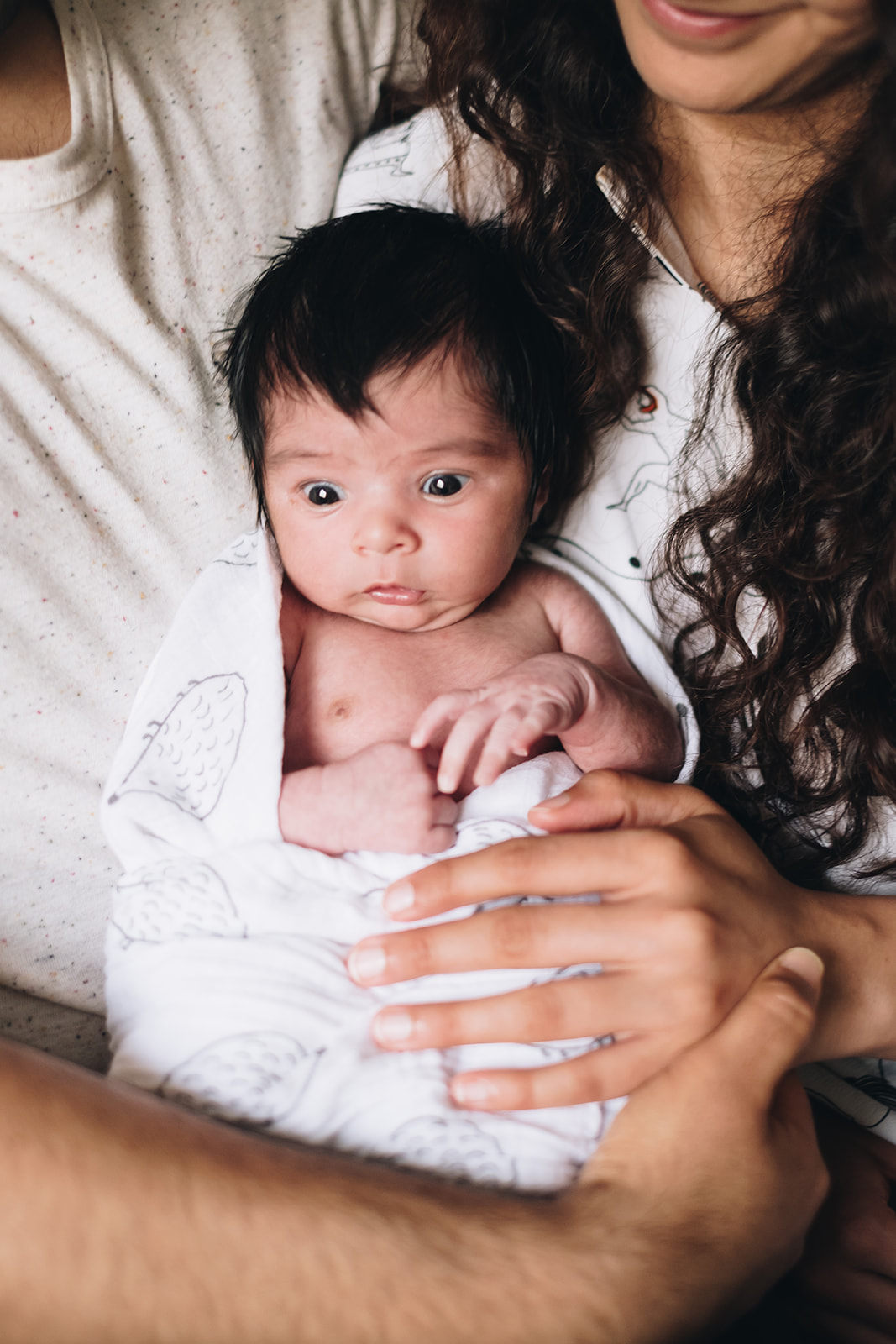 When is the Best Time for a Newborn Photoshoot?
How do you pin a newborn down for a photoshoot, I hear you ask — it's no secret that babies work to their own schedule (in and out of the womb). Aim to schedule your session within the first three weeks of your anticipated due date. Whilst some people want the photoshoot within the first 48 hours of giving birth, many people find that some time within the first 2-3 weeks of your baby being born is preferable.
Book your session in the second to third trimester of pregnancy. Arranging a photoshoot at the last minute is a real gamble. Firstly, photographers are usually booked up in advance so you risk not ending up with a photoshoot at all or not getting a session with your preferred photographer. But above all, arranging a photoshoot is going to be the last thing on your mind when you have a brand new bub in your arms!
How to Prepare your Home
Think about the rooms you would like your pictures taken in. Often these are the living room, bedroom, and nursery, but if you love your kitchen or spend a lot of time in the garden, these are great options too.
Tidying up the spaces you want to be photographed is recommended, but there is no need to go overboard — newborn chaos is normal, and I will never judge anyone for having piles of laundry shoved behind the sofa or a sink full of washing up. We're documenting your reality — so please don't aim for Instagram perfection!
The one thing that really makes a difference to photo locations? Lighting. Try and choose rooms with windows and as much natural light as possible.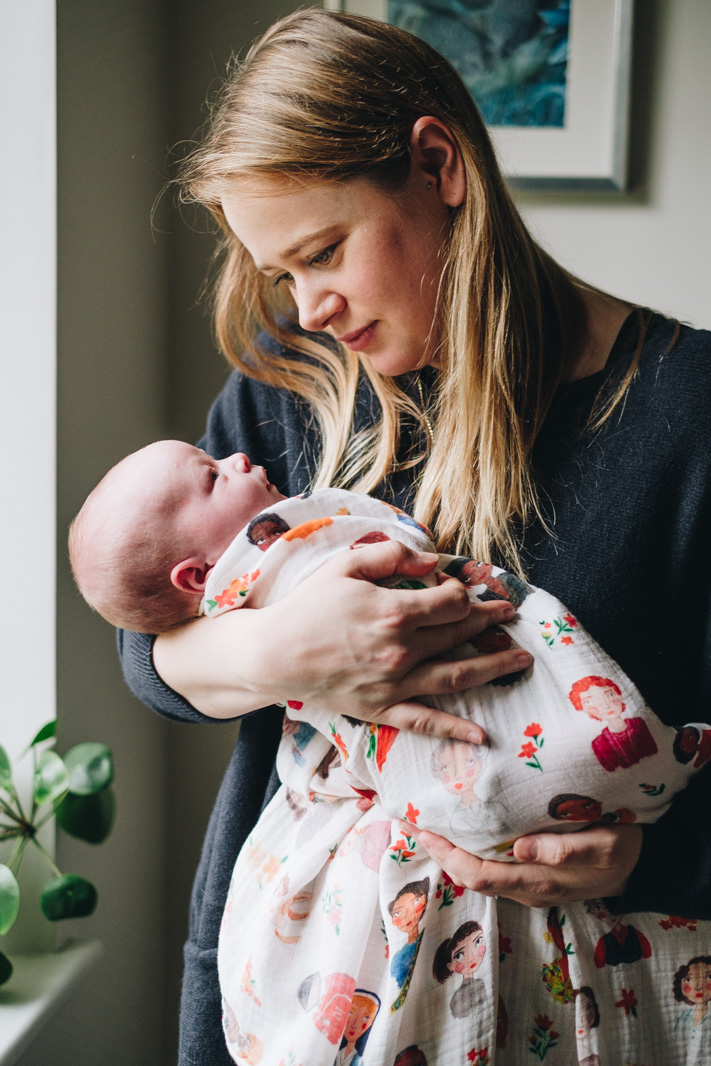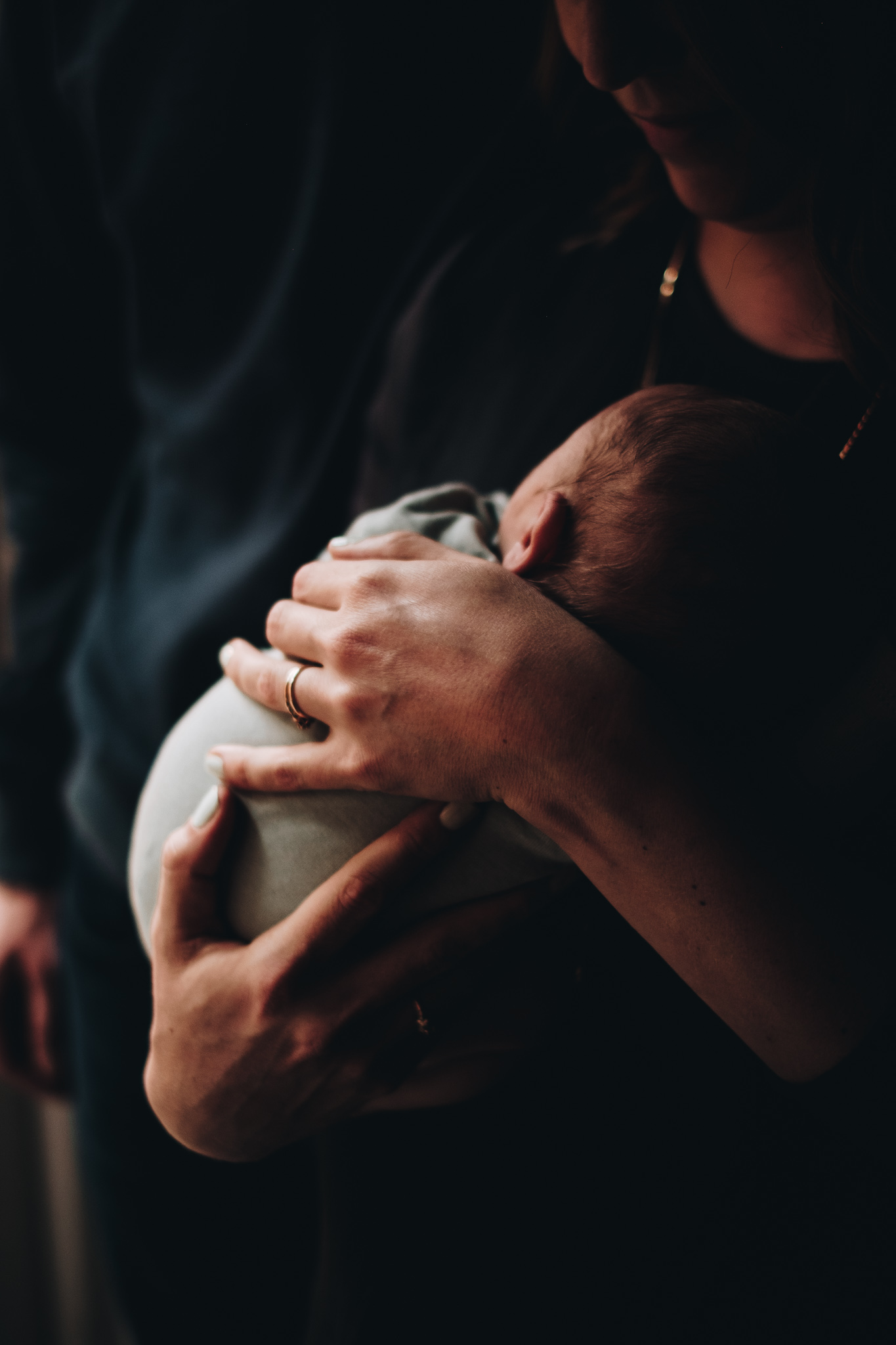 What Does Your Baby Wear for a Newborn Photoshoot?
Anything you want (and your baby is willing to let you dress them in)! Some people love images of a naked baby or wearing just a nappy. A blanket or swaddling clothes is also a good choice, or you can pick out the cutest newborn outfit you have.
Often, there is time for a couple of different outfits, and feel free to chat to your photographer about suggestions — a photographer who specialises in photographing newborns will be able to give you advice.
What Do You and Other Family Members Wear?
My number one outfit advice to all my clients for any shoot is wear whatever makes you (and your family) feel good. When you feel at ease in your clothes, you won't be worrying about what you look like. You can relax into the photoshoot, which will lead to the best photos.
If some level of outfit coordination is important to you, then neutral tones, such as what Julie, Jon, and Isabel wore, is a simple and effective choice. If you have a particular colour palette or print in mind, consider picking out your outfits when you book your photographer, so it is taken care of in advance.
If you feel insecure about capturing your post-partum body in photos, please know that you are not alone, this isn't a silly concern, and it's a problem with our society not a problem with you. Photos capture more than just the look, but a feeling too, and the energy of newborn photoshoots are unbeatable — a photoshoot can act as a great reminder of how special this fleeting time is and be a celebration of yourself and the wonders of your body.
Be Flexible and Patient
Your newborn baby is, well, a newborn baby — the photos you might have envisioned may not be what your baby has in mind. Embrace the photoshoot as baby-led, this will help you to not only relax into whatever course the photoshoot takes but it can also be a wonderful bonding session for everyone involved.
I allow plenty of time for newborn photoshoots to help encourage a stress-free environment. This gives you time to be patient with your newborn's needs and, most importantly, get to enjoy all those gorgeous baby cuddles!
If you are interested in booking a newborn photoshoot with me or have any questions I haven't covered, I would love to hear from you. You can book in for a single session or take advantage of one of my packages documenting your journey through pregnancy, baby's early days, and beyond.