A newborn baby in the house means you have a lot on your plate. As a family and maternity and baby photographer, a big part of my job is to make your life easier—which is why I put together this blog. Picking the right newborn photographer (or figuring out if you even need one) can feel like yet another job, but this guide is here to make finding the best photographer for you way more simple.
Before we jump in, one of the most common questions I get asked is what is the 'best' or 'right' age or time to schedule a newborn photoshoot… well, there isn't one. A professional photoshoot with the newest addition to your family, whether in the first couple of days or the first few months (or older!), will always be a magical experience. The perfect time is exactly when it is happening!
So let's dive into the five questions that will help you find your perfect newborn photographer.
1. What style of newborn photography are you looking for?
Think back to the baby photos that have caught your eye recently, whether that's been whilst scrolling on Instagram, on a Pinterest mood board, or on the wall in someone's home. The best jumping-off point for finding the right newborn photographer for you is figuring out your personal taste. From here, you can start looking for photographers that share your same aesthetic.
Another way you can approach it is by asking what story you want the photos to tell: do you want it to be all about the baby or a celebration of the family relationship? Do you prefer a gorgeously posed picture or something more organic?
Once you have your style and story preferences figured out, start looking for baby photographers that match your taste. Newborn photographers tend to specialise in a specific style which can be split into three categories:
Traditional Newborn Photography AKA 'baby in a basket'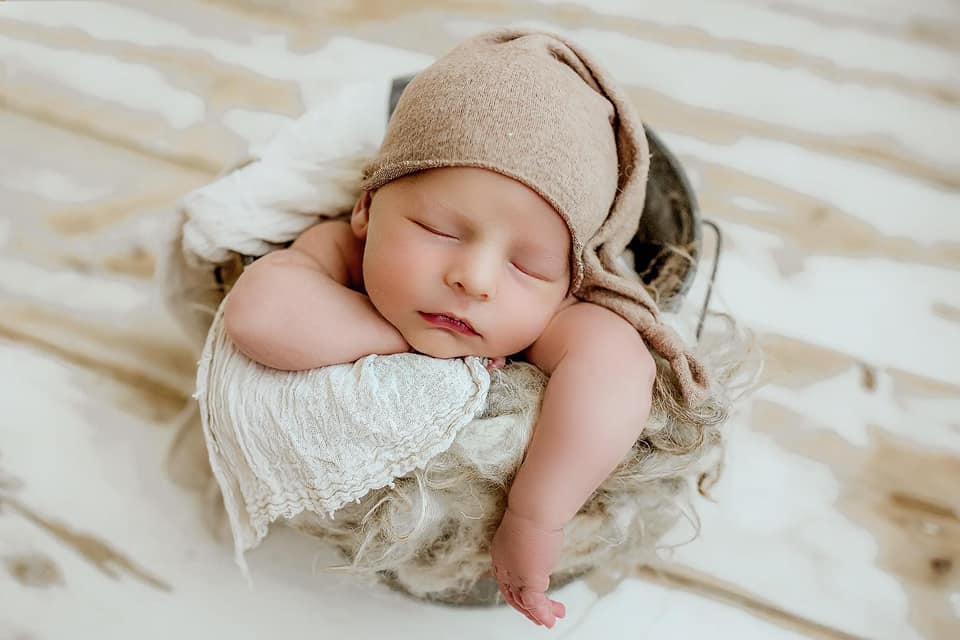 These are baby-only images, usually taken in a studio with lots of props. If you love photos of babies bundled up in baskets, swaddled in a cute wrap and matching headband or hat, or posed naked cherubically resting their head on their arms, this is the one for you. The key thing to note is that the images are highly posed and only of the baby (no other family members). There is often a theme or multiple themes and set designs. Also, a professional photographer who specialises in this area should be able to talk to you about how they plan to pose your newborn SAFELY.
Studio Newborn Photography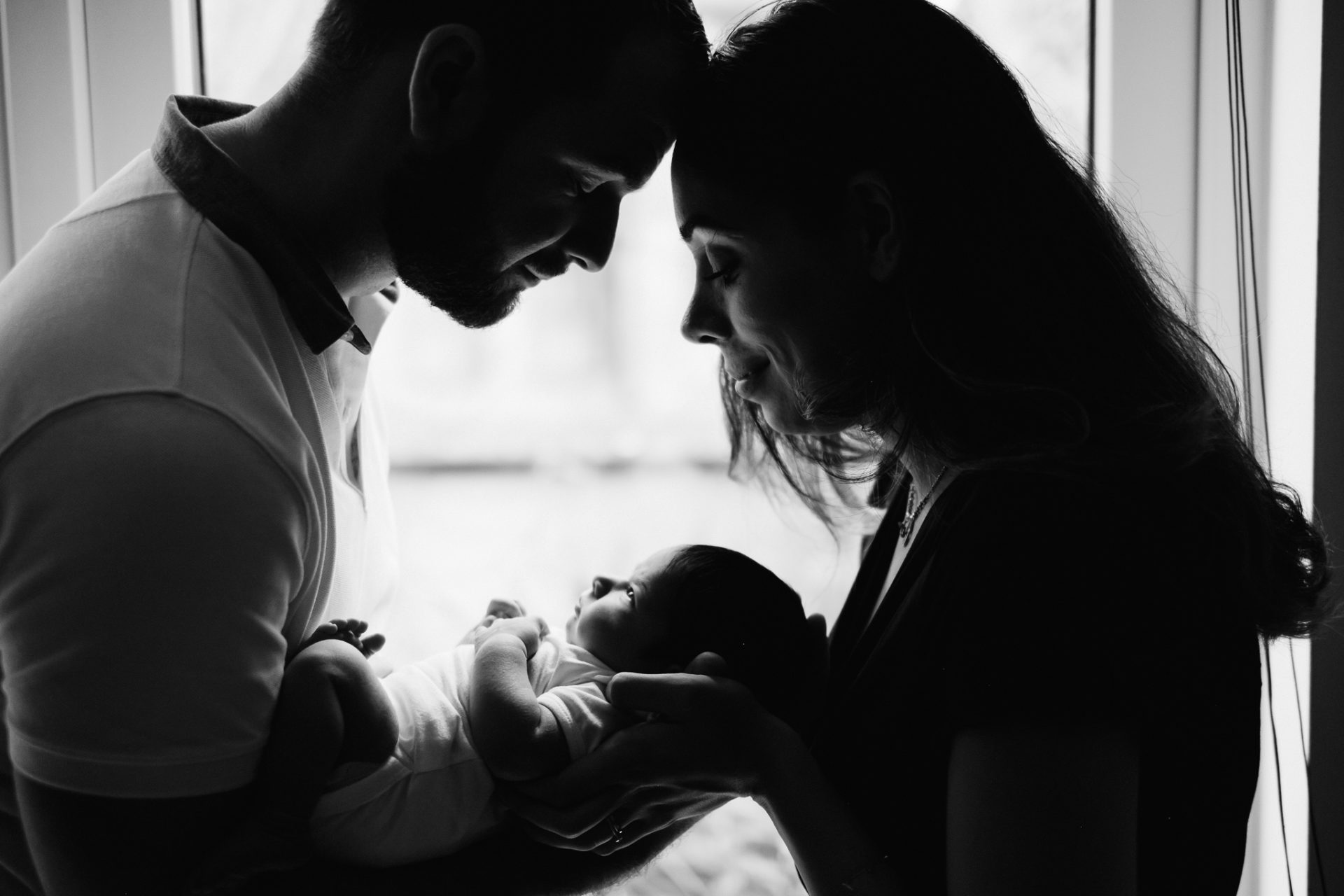 A studio newborn photography session is a mix of baby-only and family photos. Often there are fewer props, and the background is pretty plain as the focus is on the family relationship. As is the nature of studio photography, these photos tend to be fairly posed, but are more classic and timeless in nature.
Lifestyle Newborn Photography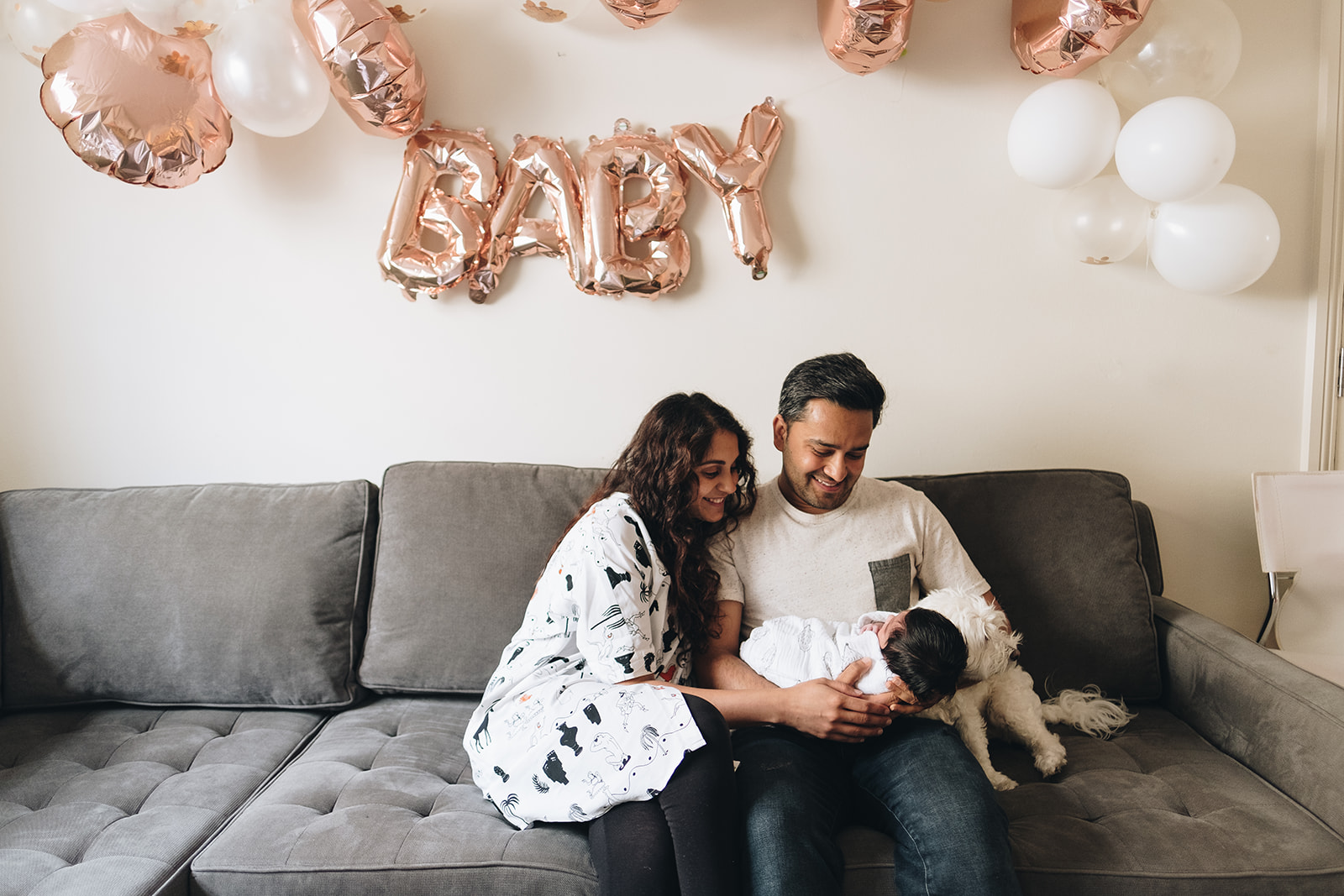 Think: you, your family, and your babe at home, in the garden, or wherever you choose!
Lifestyle newborn photography captures the magical family dynamic in your baby's early days. Posing is minimal, and instead, the focus of the photos is on interaction, play, snuggles, and perhaps a feed, nap, or outfit change, depending on your little one's schedule and your preferences.
Whilst I can offer studio newborn or family photography, lifestyle newborn photography is what I specialise in. Not only do I love this style, but I have found from experience that the ease of being at home—for both baby and family—makes for the most gorgeous, authentic, and relaxed photos and overall experience.
2. How important are newborn photos to you?
Of course, you want (need) newborn photos. But do they necessarily have to be professional ones? No, of course not!
I make my living as a family, pregnancy, and baby photographer, but it is in nobody's best interest to encourage you to invest in something that will be a financial strain. Babies can be expensive (unexpectedly so at times), and photography is another expense. If you are worried about the cost of a photoshoot, I would recommend putting that money towards other things and trying out taking your own newborn photos.
You can adapt the main principles of my guide on how to photograph your birth for any home photography. Focus on recreating the style you love most—if you like the idea of props for your newborn photos, have a look on eBay or in your local resell groups for preloved items.
If you are sure you want professional photos, then keep reading about the different price options for newborn photography.
3. How much should you budget for a newborn photographer?
The most straightforward answer to this is however much you can comfortably afford. Different things will affect a photographer's price, such as experience, location, style, and the number of photos.
Many lifestyle photographers will come to you, and the more local you go, the more affordable it is. For example, my photography sessions in and around Sheffield and South Yorkshire are more competitively priced than when I travel further afield, as I bill for travel costs.
You can also plan ahead and look into package deals. One way I and many other photographers, make sessions go further is by offering a range of packages of multiple sessions to document the time from pregnancy to toddler.
I also offer virtual photoshoots, which are an affordable way to have a professional photoshoot. Read more about booking a virtual photoshoot here.
If you are in the Sheffield or South Yorkshire area, keep an eye on my social media as occasionally I run competitions or am on the lookout for models to do shoots.
4. Will you get along with your newborn photographer on the day?
This is a valid concern that, unfortunately, all too often gets dismissed or overlooked. But the reality is no matter how much you like the photographer's aesthetic if you don't get along with them interpersonally, you probably won't get the photos you want.
How relaxed, heard, and supported you feel in your photoshoot will come across in the photos. Make sure you have a proper chat with your photographer during the booking process to feel out how well you vibe. An initial no obligations chat is an important part of what I offer because it's integral to me that any potential client can feel me out and make sure we are a good fit.
In addition, photoshoots should be a positive (sometimes even healing) experience. A photo captures not just a moment but a memory of an experience. A great photoshoot experience where you had fun and felt good can be evoked when looking back at the photos.
5. Is your newborn photographer consistently producing amazing photos?
Don't just look at the photographer's social media or website, as this is a curated highlight reel. Ask to view a full newborn gallery of the same package you are interested in. This will give you an idea of every photo you can expect to get, not just the three best ones.
If you are looking for lifestyle newborn photography in Sheffield or South Yorkshire, I'd love to hear from you! Get in touch for a no obligations chat, and we will take it from there.
If you already have a newborn photoshoot booked, read up on my guide on how to prepare for a newborn photoshoot, which covers everything from getting your home ready to picking outfits!