The holiday season is fast approaching, and what better way to capture those precious moments with your little ones than through a Christmas mini photoshoot? This year our Christmas minis will be taking place at the Full Monte Studio in Attercliffe. I'm so excited to help you create lasting memories in a relaxed and comfortable environment without the stress of: what will the British weather bring us today?? Goodbye rainy day reschedules! In this blog post, I'll walk you through everything you need to know to ensure a successful and enjoyable photoshoot experience.
Child-Led Sessions: Creating a Relaxed Atmosphere
Our primary goal during any photoshoot is to provide a relaxed and comfortable atmosphere for both parents and children. I believe in child-led sessions, allowing your kids to be themselves and express their unique personalities. This approach ensures genuine, heartwarming photos that capture real smiles and real moments. Joy is at the heart of my work and I will break out all of the ridiculous jokes and be incredibly silly to help your kiddo relax and be themselves, bringing out those authentic grins.
The number one bit of advice I can give you to help create a relaxed and fun atmosphere: kids respond to your energy.
Maintaining an upbeat, energetic, fun, and caring persona will help guide your kids' attitude to the photoshoot. Even if your kids become cranky or upset during the shoot, they will usually come around quicker if you keep your cool.
Prep your kids in the lead up to the photoshoot. Feel free to tell your kids about this super fun person named Elle (pronounced L-E) who is going to be spending some time with you at a big studio with a Christmas tree to take their pictures playing with your family.
If your kids are already looking forward to a fun experience (as opposed to them being told seriously about a photographer and how important it is to behave for them), then chances are they will be at ease and this will shine through in the photos.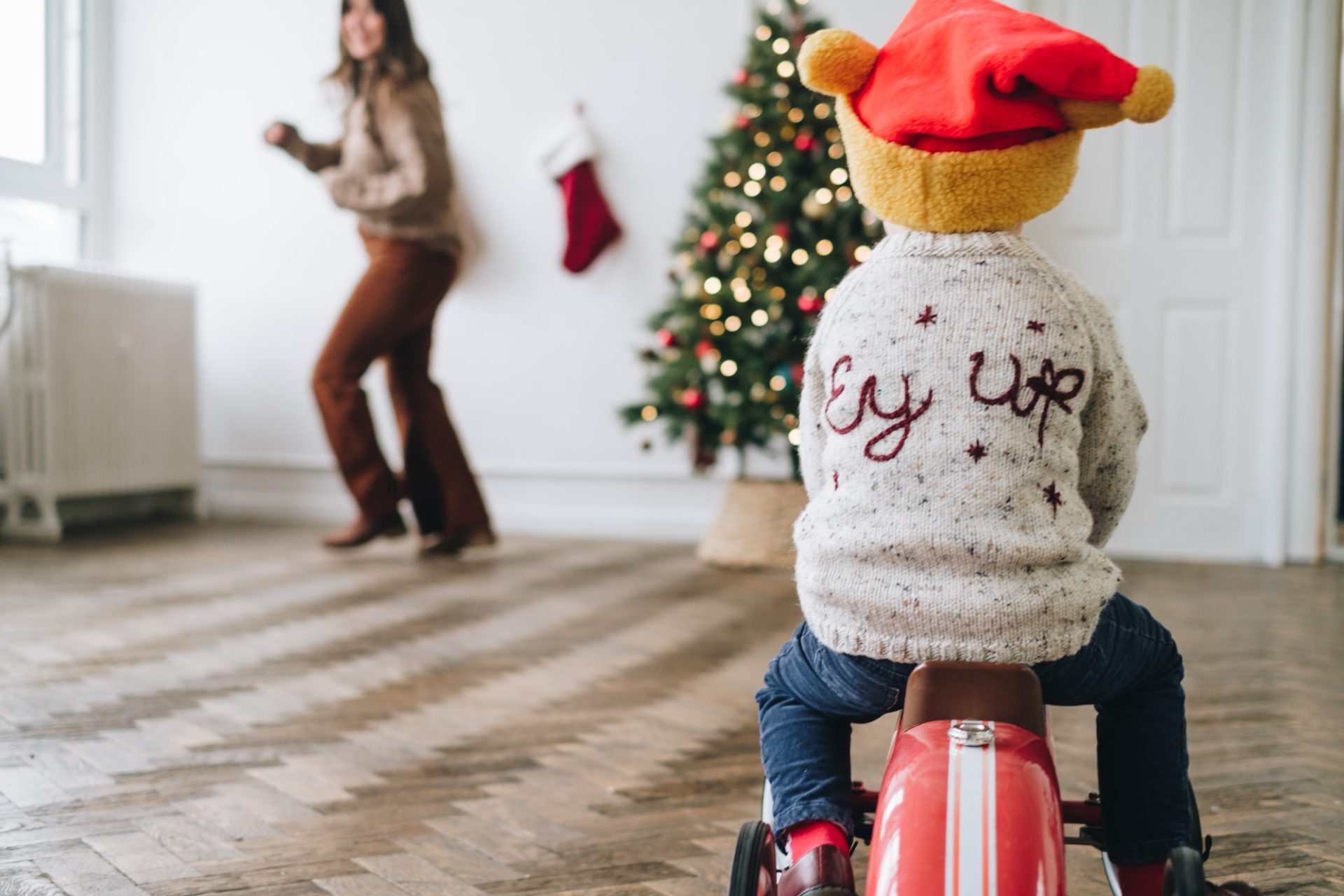 What to Wear: Comfort and Cosiness is Key
When it comes to choosing outfits for your Christmas mini photoshoot, comfort is key. Your little ones should feel cosy and relaxed in their attire. You have the flexibility to dress more formally for a classic holiday look or opt for a more casual and festive vibe, such as Christmas pyjamas. Remember, the most important thing is that your children feel comfortable and happy in what they're wearing. Check out this guide for even more information on what to wear for a family photoshoot. And if you want to borrow anything from the Client wardrobe, do let me know!
What to Bring: Personalise Your Session
To make your photoshoot extra special and unique, consider bringing props that reflect your family's holiday traditions and personality. Some ideas for props include:
Big Christmas Book: If your family loves reading holiday stories together, bring a large Christmas book for your children to engage with during the shoot.
Wrapped Presents: To capture the excitement of Christmas morning, bring a beautifully wrapped gift for your child to open under the studio's Christmas tree. Note that the present should be kept hidden from your child until it's time to open it, ensuring an authentic and joyful reaction. It should also be the last thing that we do as kids will then be fully engaged with their new exciting toy rather than the experience of the photoshoot.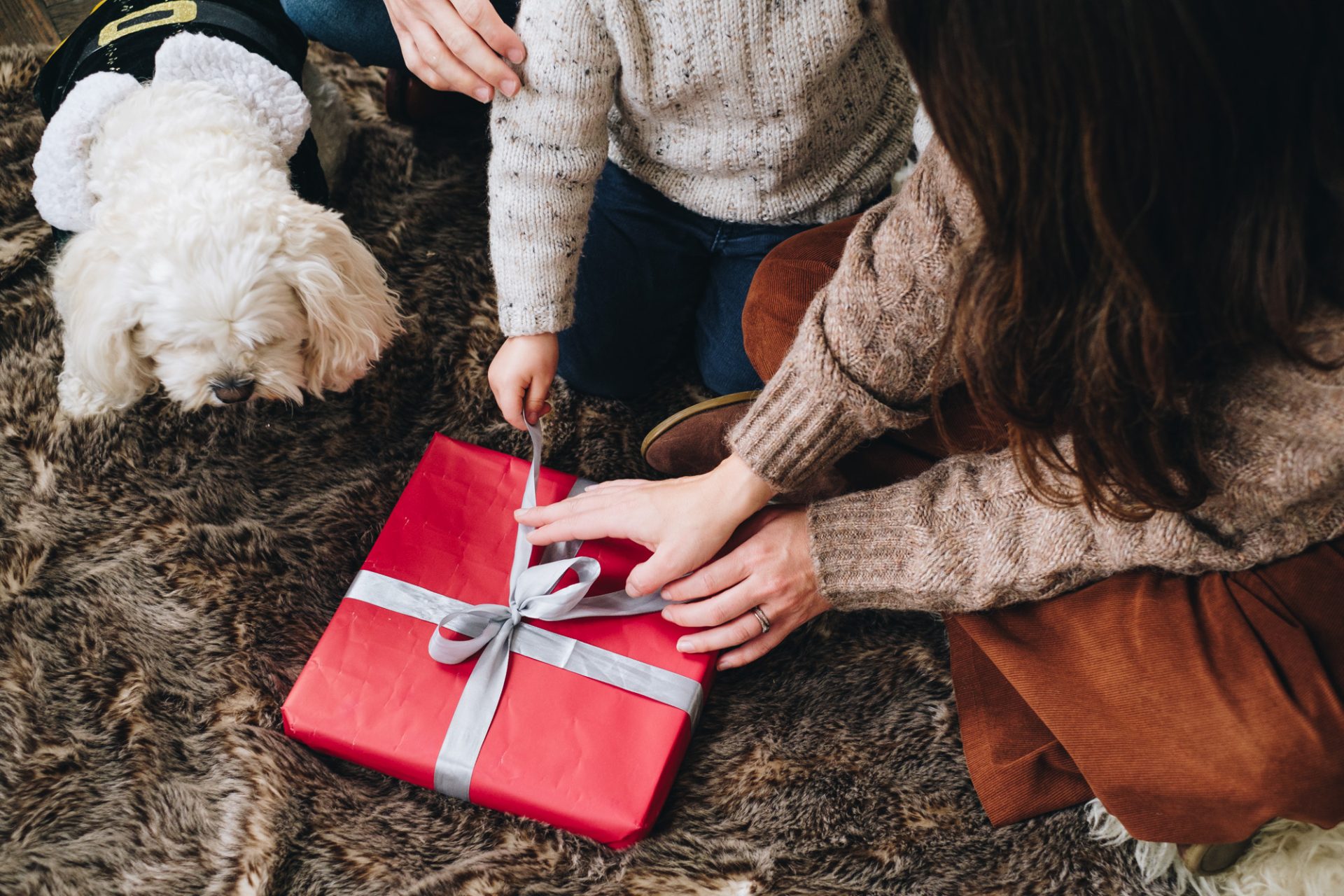 Bringing Your Furry Friends: Dogs Are Welcome
Pets are part of the family too! If you'd like to include your furry friend in the photoshoot, please feel free to bring them along. The studio is pet-friendly, though there is a resident cat. She usually stays hidden in the ground floor workshop. We'll make sure to capture some adorable moments with your dog if you bring them along. Just remember to bring their favourite treats and any necessary supplies to keep them comfortable.
Including Newborns or Young Children
For families with newborns or young children who are not yet able to individually sit, there are a few things you need to know. I do not swaddle or pose newborns or young children. You can hold your little one during the photoshoot, ensuring they feel safe and secure in your arms. If you prefer, you can also bring a blanket, rug, or Moses basket for your baby to lay in during the session. If you want another child to hold a newborn during the photoshoot, please practise this beforehand, especially if the children are not siblings.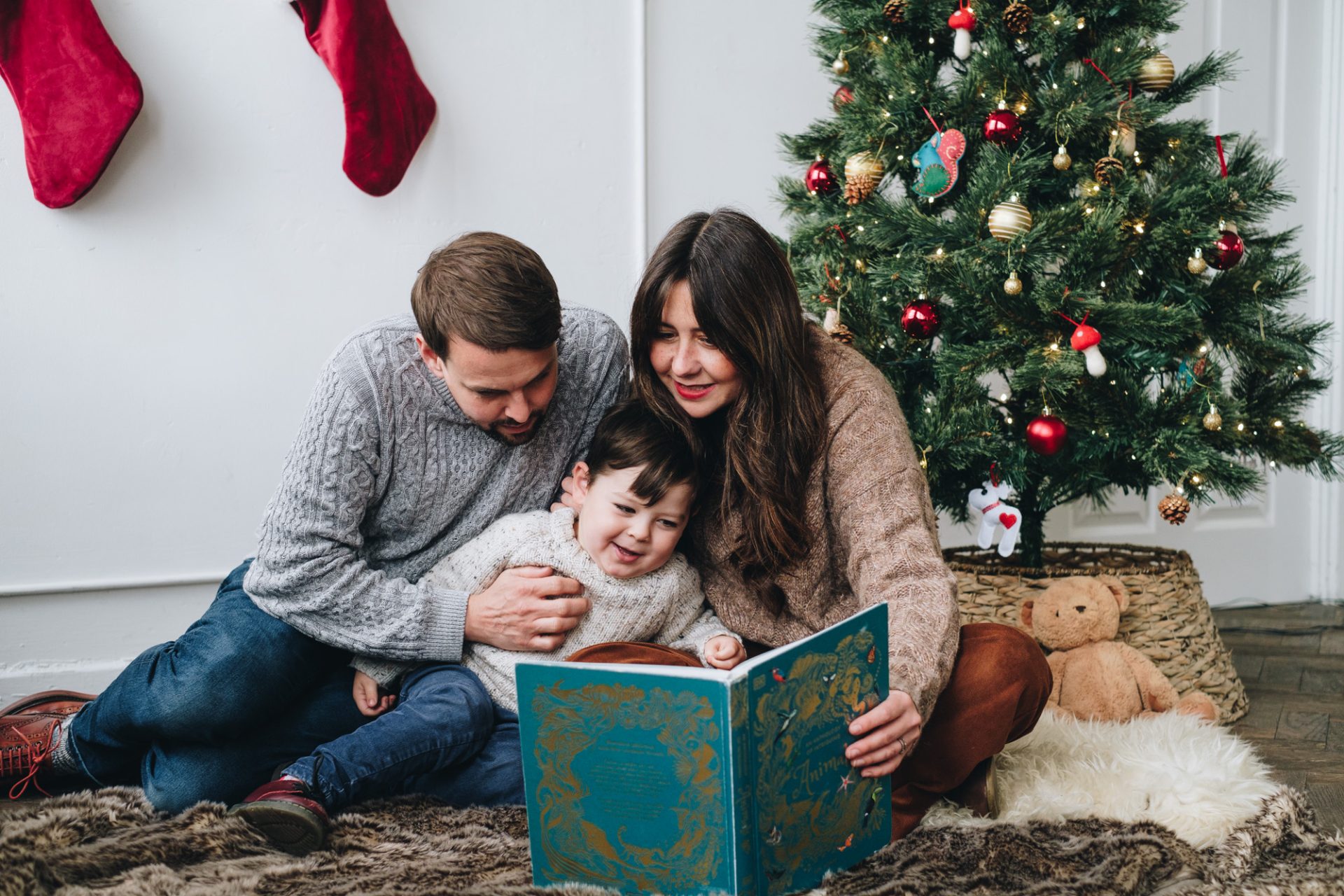 A Christmas mini session is a wonderful way to capture the magic of the holiday season with your loved ones. By following these tips on what to wear, what to bring, and how to prepare your children (and even your pets) for the session, we hope to create a fantastic and memorable experience together.