Saturday morning, we're up early to head to Wales with our friends Chris and Rachel. We're driving separately specifically for our first hike in Wales. We want to hike a section of the Offa's Dyke path, the 177-mile national trail following the English/Welsh border. As it's not a circular path, we're aiming to park a car one on each end of the section we want to hike so that we don't have to turn around and walk back the same way.
We decide to start our journey from Hay-on-Wye and leave the second car at Capel-y-ffin. Roughly a 9 mile walk along the Offa's Dyke path.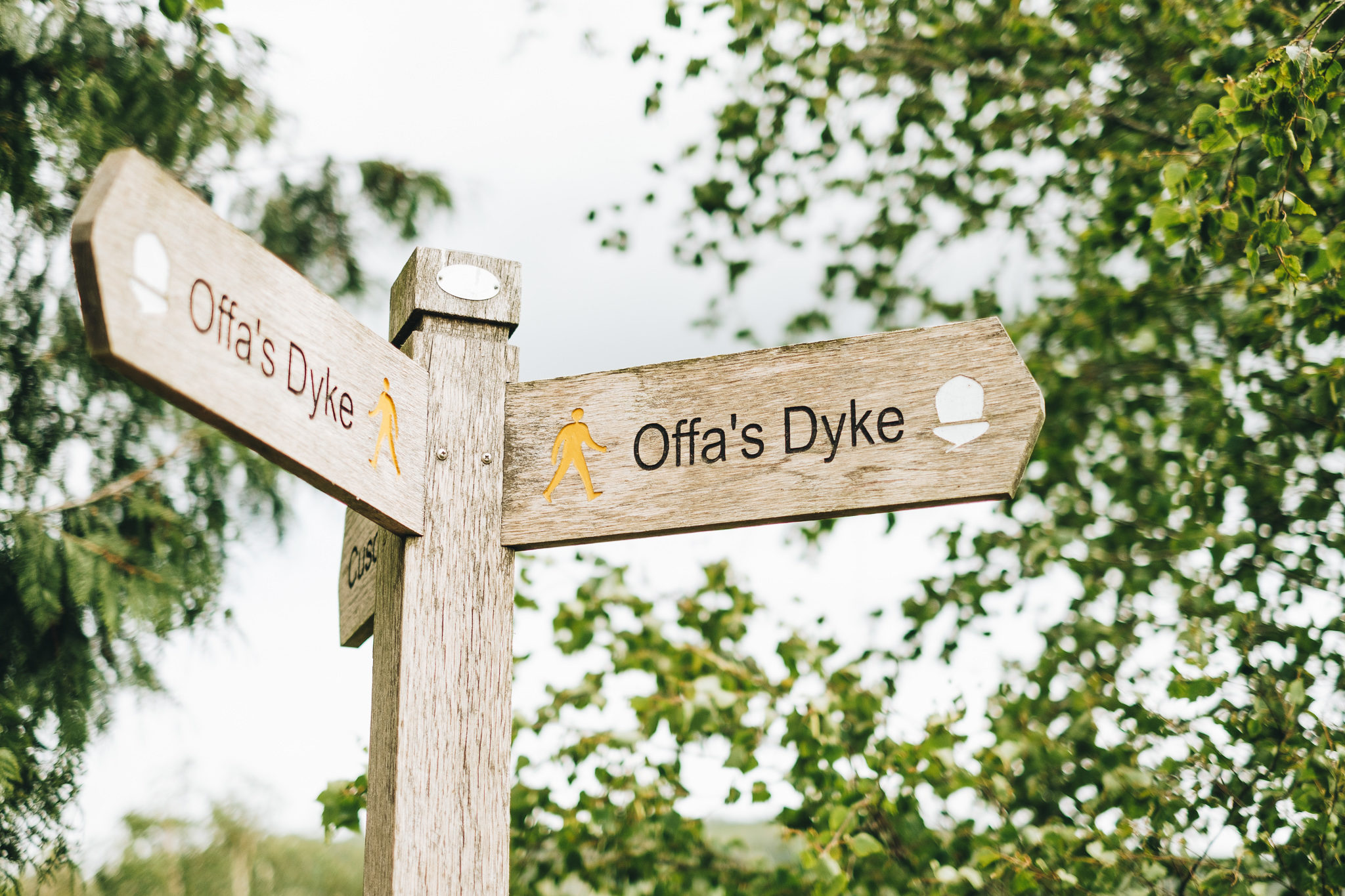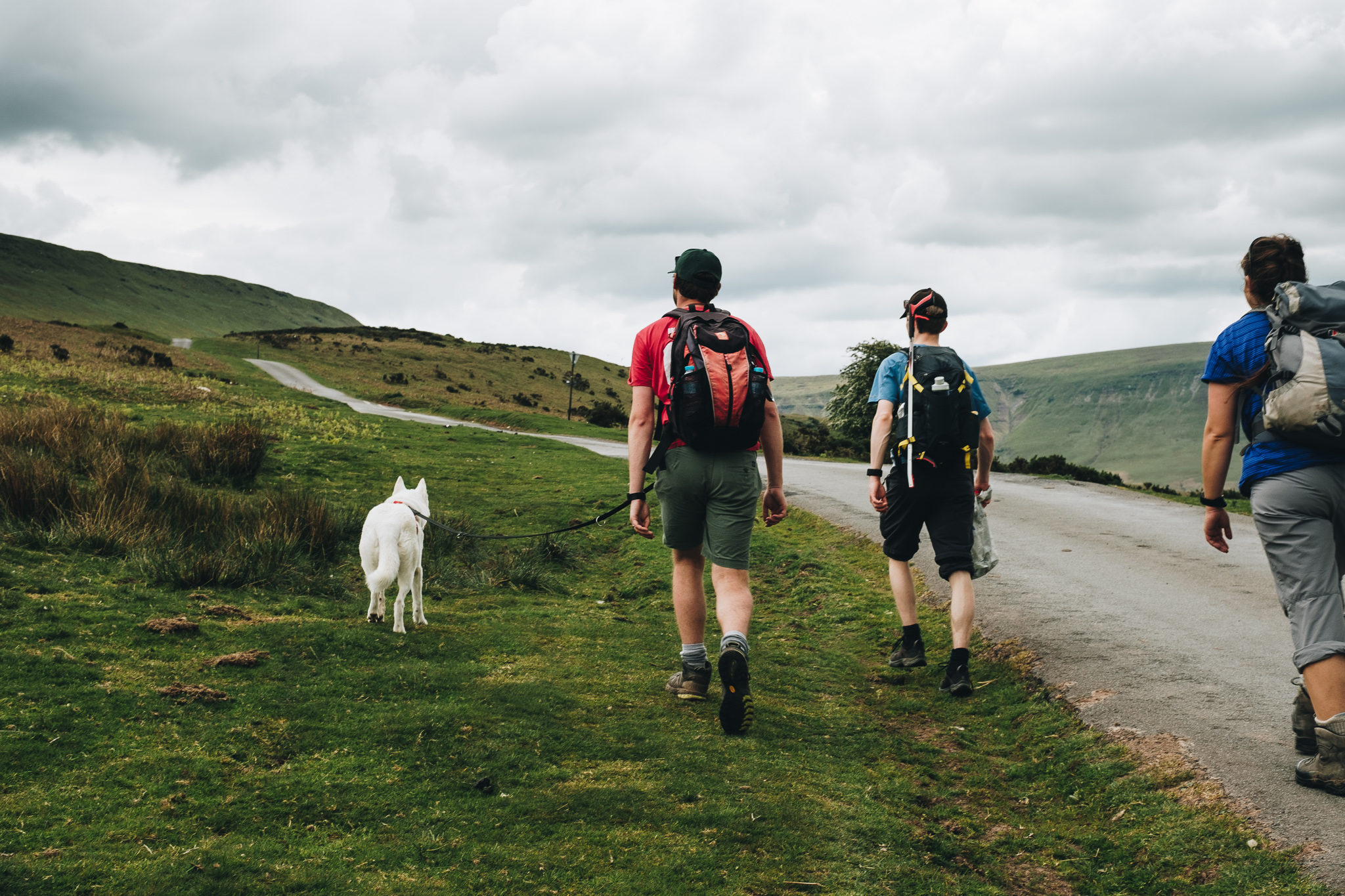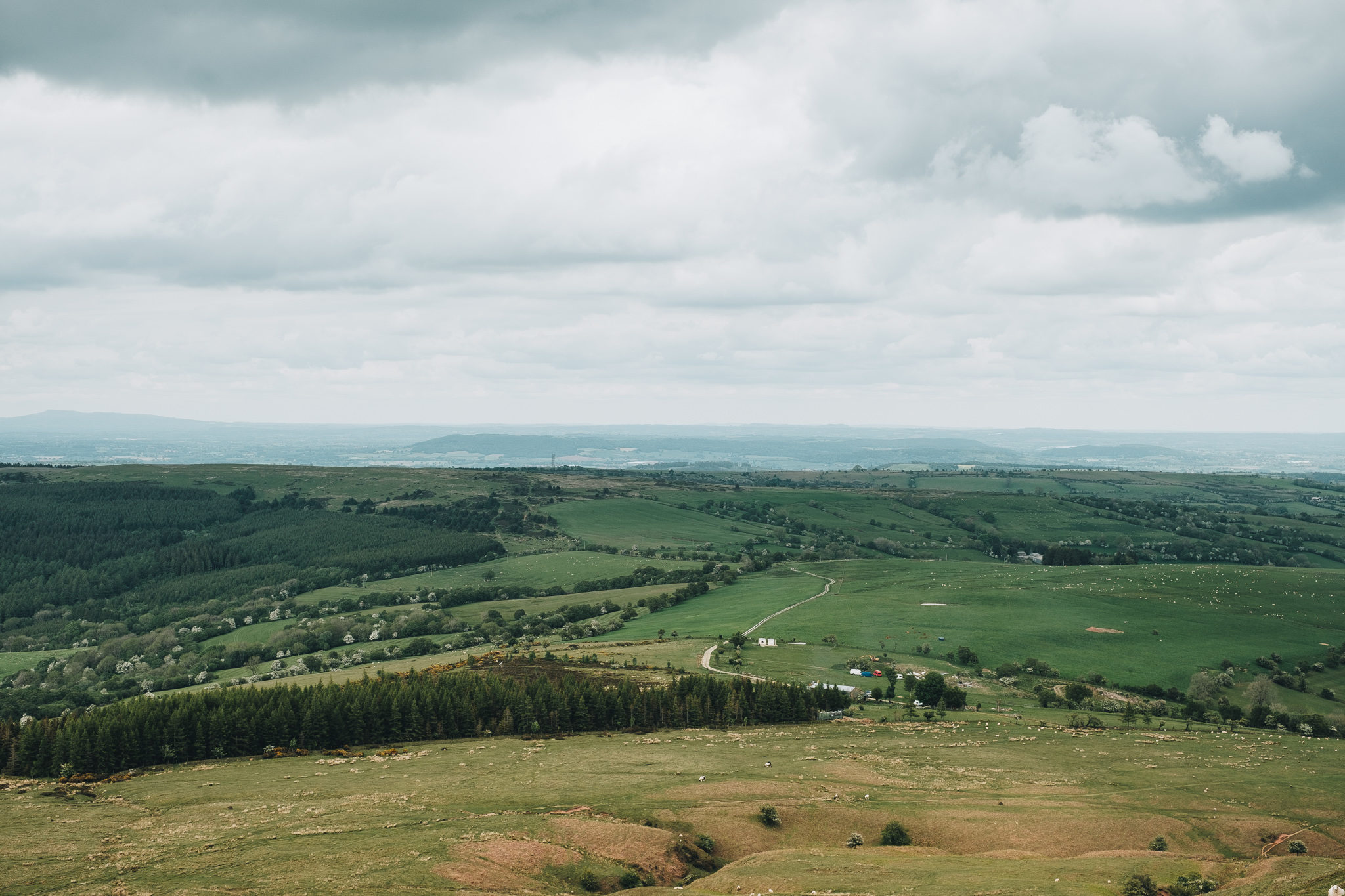 This is the first real trip that we've taken with doggo since we adopted her back in January. She's a real puller on the lead and likes to be in front and charge ahead. We have a special waist belt that we use to walk her to take the strain out of our shoulders. We don't correct her too much with the pulling for a couple of different reasons: 1. she's gotten a lot better and when she's just wearing her collar (not the harness) she doesn't tend to pull. 2. she's a husky. a working dog. she was bread to pull.
Anyways, we were fully expecting her to pull and basically help me climb mountains. It didn't really happen. The day was quite hot and was probably a bit much for her. We took it real slow getting to the top, but once we were up it was smooth sailing.
Kenzie hasn't really been around livestock so that was interesting. Again–she's attached to my waist, so when she sees the sheep and tries to get to them well, it definitely pulls me a bit and makes me work my core muscles to keep me grounded.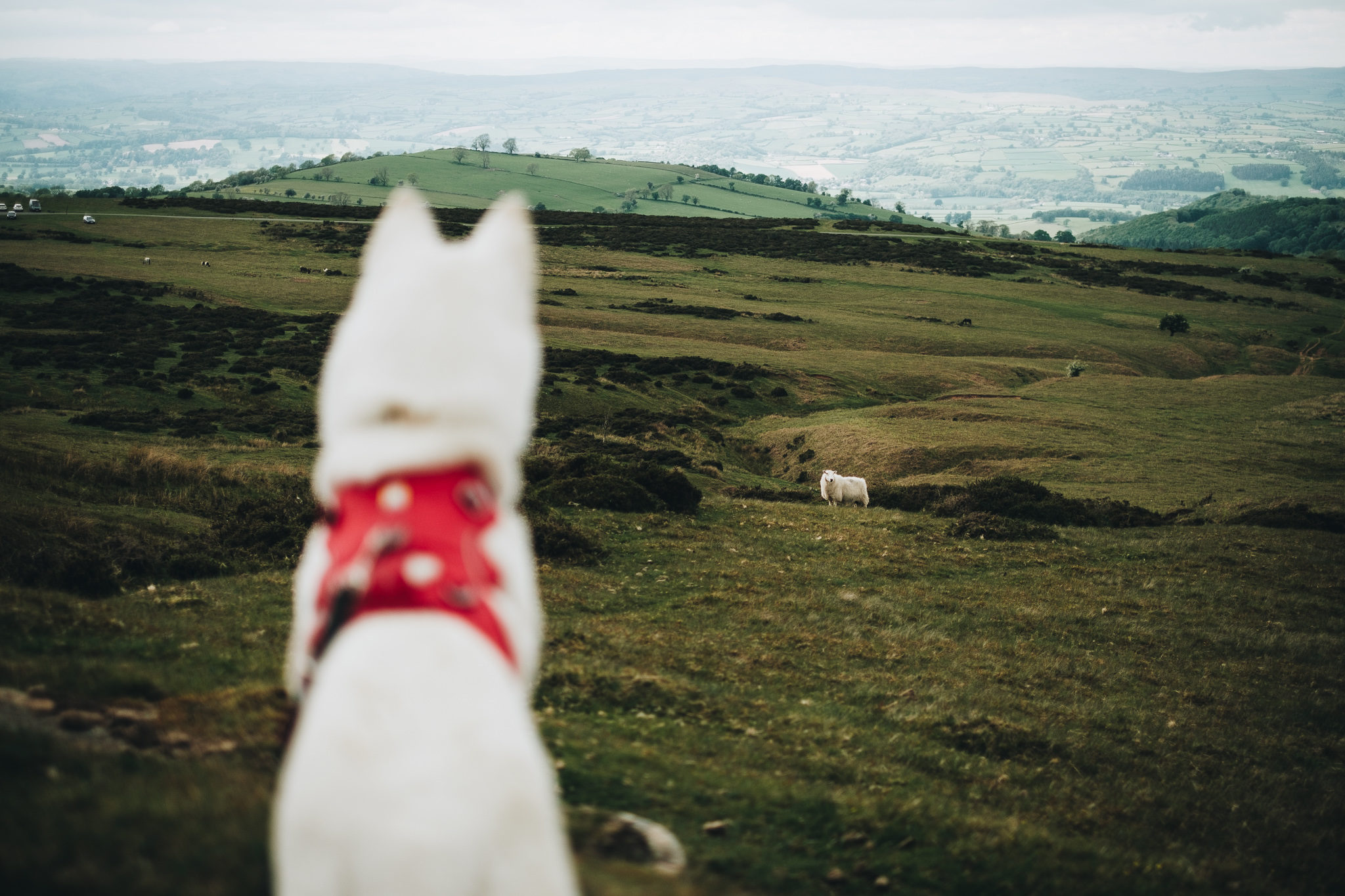 There was one particular field we walked through where Mike actually had to carry her because she was just getting way too excited and revved up about the sheep. Carrying her for a bit calmed her down to where we felt comfortable letting her walk again. We did get a strange look from a fellow hiker and he quizzically asked us why we were carrying our dog. The things you do, eh?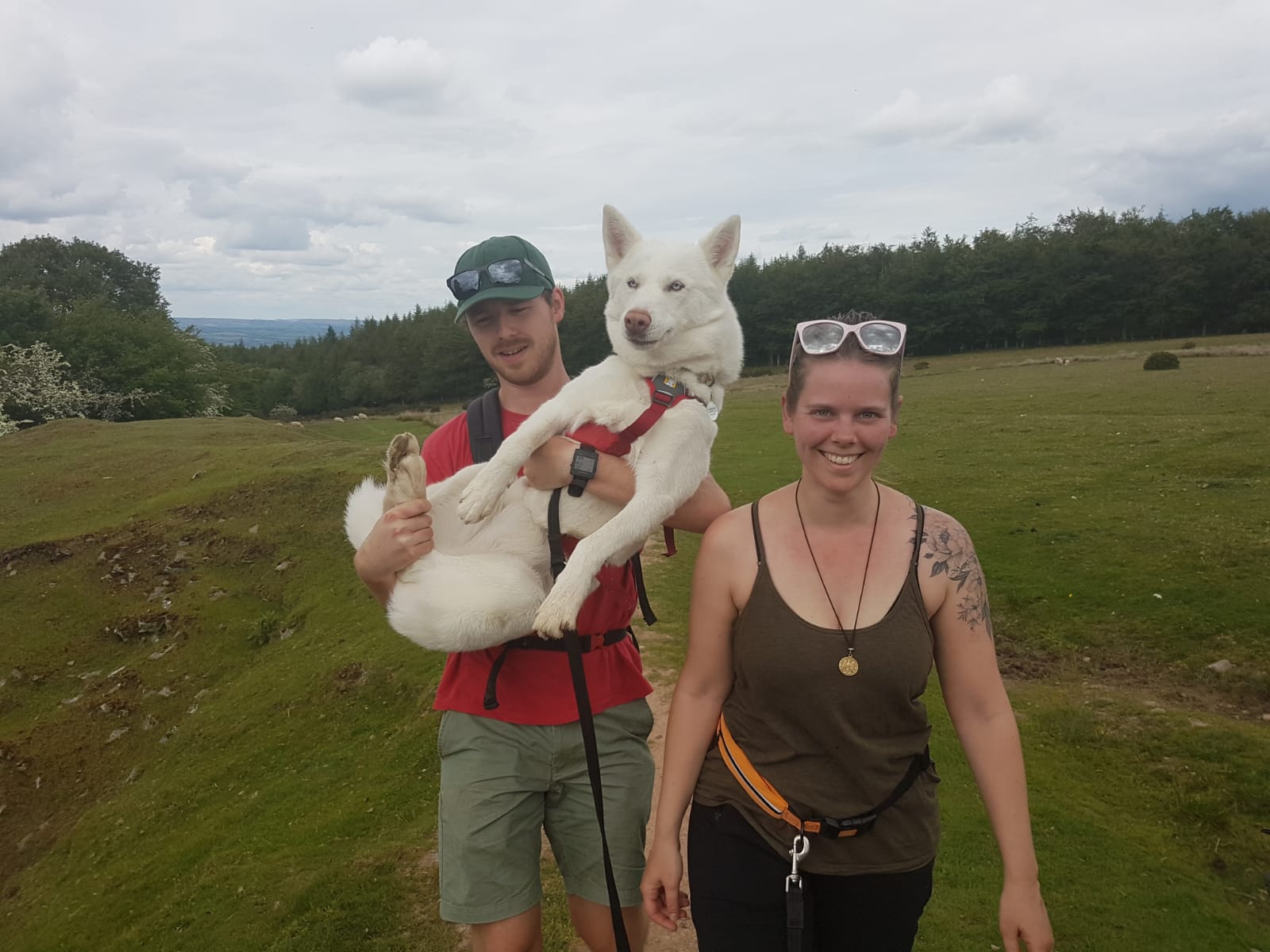 Overall, it was a lovely walk along the Offa's Dyke path. We trailed off of it towards the end so we could take a detour path down to Capel-y-ffin where we left the second car.
It is worth noting, that although it's included within this blog post, we completely missed the Welsh Dragon trig point on our walk. We went up another path by accident. However, we really really wanted to bag a Welsh Dragon trig point while we were in Wales, so on our drive back on the last day of our trip, we stopped at the base of the hill where this trig point was and climbed the steep ascent to get it.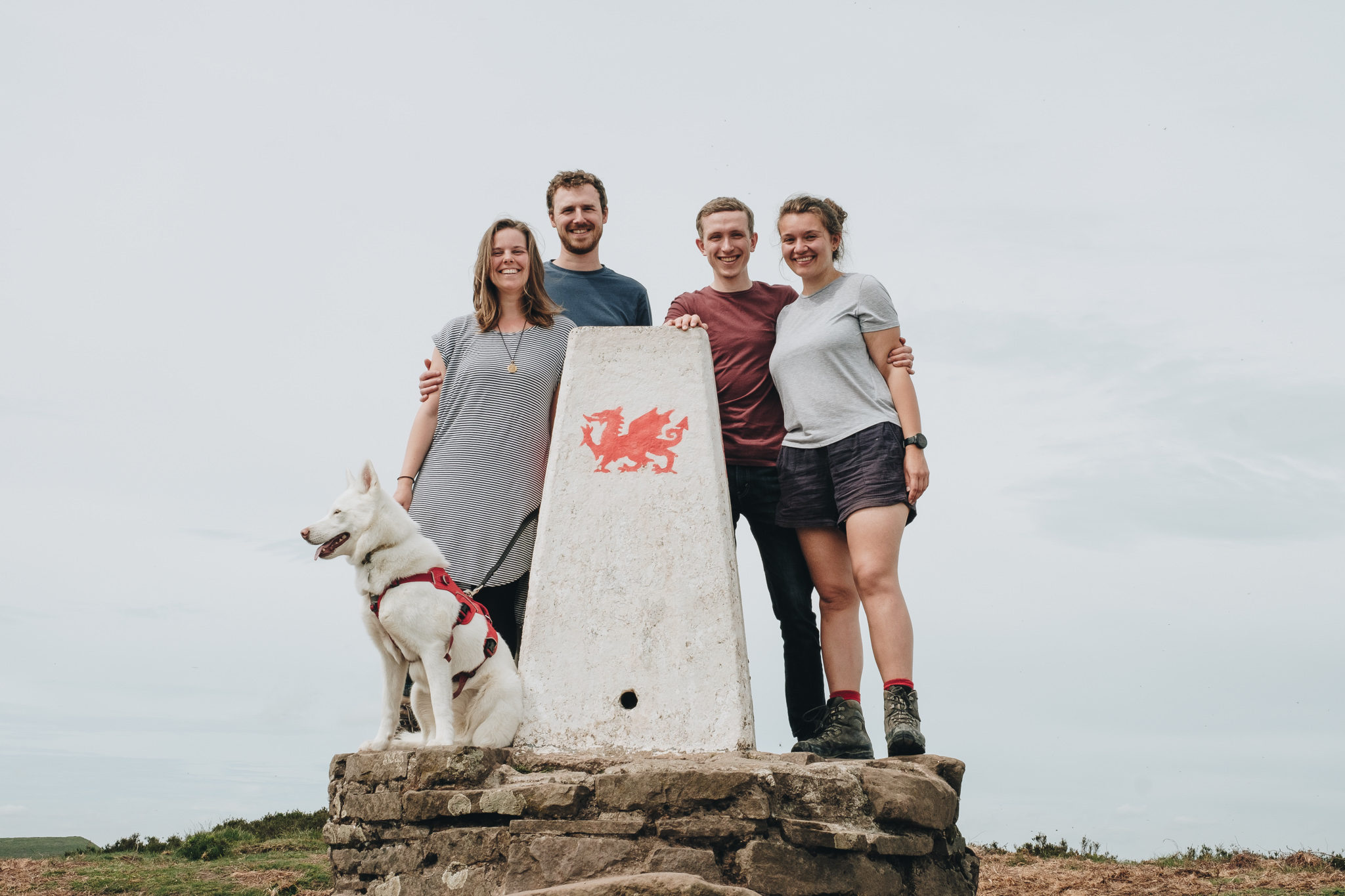 There are probably more photos of my dog than of our actual hike. The ratio of dog to Welsh landscape photos does change as we get further into our trip…