We all have that ego pose that gives us that little boost. That pose that says: "Hell yes, I can do this pose, and damn don't I look and feel great in it?!" Yoga teaches us non attachment to both the good and the bad. Did you finally get into wheel pose today after working toward it for a year? Amazing! Go you! Hold onto it for one minute, and then let it go. We are human though and the next time we show up to our mat and try and fail to get into wheel, we will feel less than. "But I did it yesterday!" you say. And yes, you did do it yesterday, but today is a new day and your body feels different. Hold onto that feeling of less-ness for one minute and then let it go.
We are not defined by our ability or inability to do specific poses. That is the ego. The ego labels, defines, and quantifies things.
I want to share with you a little bit of my own struggle with my current "ego pose." Let's face it…we all have an ego pose–the one pose we want to achieve so badly we'll force ourselves into it or the one that we feel so great in that we do it all of the time at the expense of expressing or trying new poses.
My ego pose is King Pigeon, or Raja Kapotasana. Actually, we can broaden that by saying any variation of pigeon is my ego pose.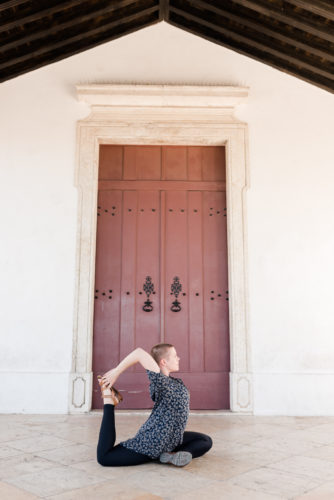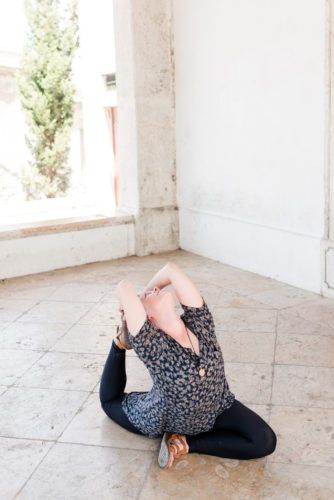 (photo credit: www.galizesphotos.com)
Since I can remember, I've been really flexible, but not strong. I don't have a dancer's background or anything like that–I'm just naturally bendy. Sometimes I'm too bendy and my body doesn't actually know when to stop. Sometimes I'll be in a pose and it will feel wonderful while I'm in said pose, but as soon as I exit that pose, daggers of pain stab at me in different muscles or joints.
I love King Pigeon and all of the variations I can do in this pose, and I can physically do them and feel fine in them. I don't feel any pain while I'm in the poses (though my circulation is known to be bad and I can't actually *hold* them for longer than about a minute or two without my folded leg going all pins and needles to sleep). Once I exit the poses, however, the pain jumps in and says: "HELLO! Remember me?!?!"
I do this pose because it's one of my favorites, even though I know pain will often follow it. Why do I still do the pose? The ego. I want to be able to do it so badly I will do it anyway regardless of the consequences. It's a constant struggle to tell myself no especially when I know my body can physically make those shapes. The mind knows that the future will hold unpleasantness, but all it wants is that present gratification of being in the pose. That is the ego 100%.
I haven't done pigeon pose for about a month now. I sometimes feel like the Hulk when he's clocking his "days since last incident" counter. And in this past month, I've been fighting the ego, telling myself no. This pose isn't for me right now. It will not be for me until I build more strength to support it. So, in group classes when pigeon pose comes up, as it often does (it seems to be a favorite among teachers as well), I suck in the pride, resist the temptation, and I lay on my back for dead pigeon, or Supta Kapotasana.
Initially, it felt like a battle of wills. Who would win out, the King pigeon or the dead pigeon?? Now, however, I've slowly become more accepting of my body and its limitations at this time. I don't feel less than for not doing pigeon when the rest of the class does it and I opt for laying on my back. I see it as a recognition of self.
Although, it does seem like my body is sending me mixed signals doesn't it? It loves the feel of being in pigeon and then after it's like: just kidding!! We really hate pigeon.
They say listen to your body in yoga, but my body seems to like to play tricks on me. Nevertheless, since I know the consequences of pigeon on my body, if I choose to put my body into that pose, that is the ego winning out. The fight continues…
---
---
You might also like
---